After years of providing engines for Formula 1 and cars for rally racing, Renault strengthens its ties with sports once more. This time they set their eyes on eSports, and once they have their eye on something the teeth usually follow. This is no exception. The French eSports Team Vitality and the car brand team up on a new eSports team called Renault Sport Team. The three team members will compete in Rocket League, a car-based football game with over 25 million players worldwide.
Philip Paschmeyer – Paschy90
Victor Locquet – Fairy Peak!
Sandro Holzwarth – FreaKii
Based in France like Renault, Team Vitality seems to be the perfect partner for the manufacturer. Formed in 2013, Team Vitality has had success in tournaments of games like League of Legends, Call of Duty and FIFA, among others. Though starting with Rocket League, chances are that the team will compete in the eFormula 1 in the future as well.
It's all about hard work
Venturing in eSports is a logical step for a company that has tight bonds with competitive sports. "The ties that exist between motorsport and gaming are obvious. Both call for mental strength and physical fitness in a highly competitive environment," said Cyril Abiteboul, General Manager, Renault Sport Racing. "Last year's exciting launch by FOM of the Formula 1 eSports Series has accelerated the convergence of these two worlds and created opportunities for collaboration. Our drivers, and especially those who form part of the Renault Sport Academy programme, and Vitality's own champions will be able to trade best practices. In this area, as in F1, our objective is to build a team for the long term that is both respected and feared by its opponents!"
A whole new audience
The merge of Renault and Team Vitality opens up a whole new audience that could not be reached before this date. It gives eSporters a chance to practice in the famous Enstone Factory. With professionals who are accustomed to working in a high pressure environment. Hence giving them the skills to dominate whatever platform they choose. Though McLaren won't be far behind, after a successful 'World's Fastest Gamer' program.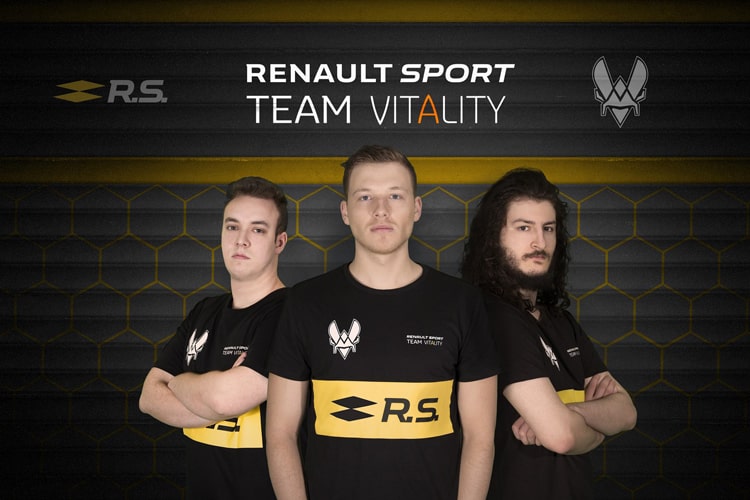 Like eSports divisions of football teams like Ajax and Manchester City, this step of Renault is one in a series of development where sports en esports get more and more intertwined. Creating an audience that might have been primarily not been interested in eSports.
Fabien Devide, Team Vitality's founder and chairman, sees the new cooperation as fertile ground for future ambitions: "Vitality's DNA is to be seen as a French front-runner that is competitive in the international arena. Our partnership with Renault is a natural match, not only because we share the same values and colours but also because we all want to make it to the very top of the European and international scenes. At Vitality, we stand to learn a great deal from Renault Sport Racing and how it prepares for Formula 1 races. At the end of the day, many of its methods are the same as those we employ in eSports, namely data and performance tracking, physiotherapy, fitness training and mental training."